David's German Potato Salad
David04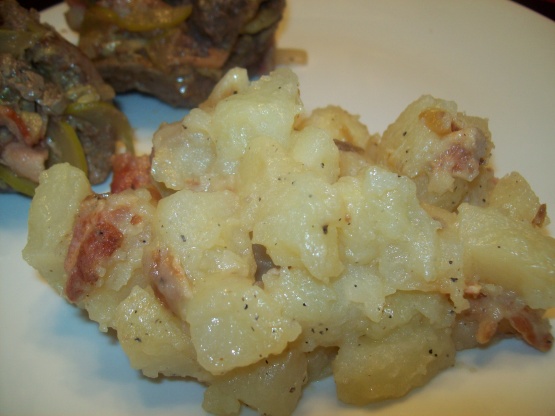 This is not your typical mayo based potato salad. It is very simple to make and simply delicious.

Made this to share at a group gathering, & although some of the people were a bit hesitant to try this salad, most of them eventually did & were surprisingly satisfied with it! I did take a couple of liberties with the recipe, though, in that I didn't peel the potatoes but just cut them into small bite-size pieces! Also used bacon bits instead of browning the bacon myself! Definitely a different kind of potato salad, but one well-worth trying! In fact, I'll be keeping this recipe around for future enjoyment! Thanks for sharing it! [Made & reviewed in New Kids on the Block tag]
Boil the potatoes in their skin until they are done, but still firm.
Drain the water, cover, and let cool for 1-2 hours.
While the potatoes are cooling, dice the onion. In a coated frying pan, brown the onions until they are crispy.
Peel the potatoes after they are done cooling.
Slice the potatoes very thinly or into small diced chunks, if you prefer.
Place in a large bowl.
Add the browned onion and toss gently together.
Combine oil, vinegar, and broth in a small bowl.
Stir vinegar mixture into the potatoes.
The consistency should be mushy. If too dry, add chicken stock or water, being sure not to make it too runny.
Crisp some bacon, and stir it into the salad.
Taste and add salt and pepper and more vinegar, if needed.
Refrigerate for 2-3 hours, the longer the better.
Serve at room temperature.