Dajaj Fe Ga3ateh - Chicken at the Bottom (Bahrain)
awalde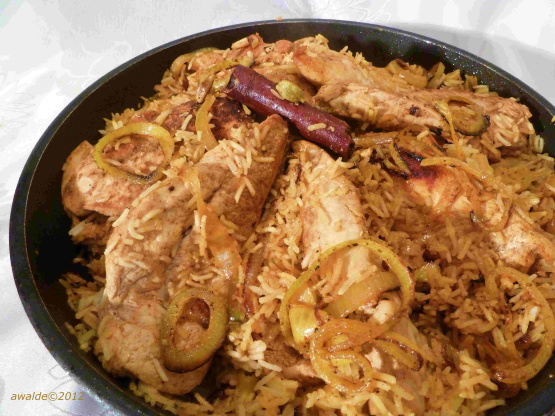 Delicious and easy! "A traditional Bahraini recipe originally posted for Welcome to Bahrain Tag Game! Modified from a recipe on http://6abkhatummi.blogspot.ca

Top Review by awalde
Thanks a lot for this delicious dish. I doubled the quantities a I knew I would like it, without thinking it would not fix in the pan. Finally I decided to prepare it in two pans and assemble it at the end.
I used chicken breast and I prepared the spice mix as mentioned.
We love cardamom and the spice mix was delicious.
My daughter prepared some yogurt sauce to enjoy with the chicken. It was a good choice.
Half cook rice using straining method - basically you just fill the pot with water and salt to taste, bring to the boil, add rice (rice has to be MUCH less than water) and cook until rice starts floating (thats when you know its half cooked but taste rice to make sure). When your done strain rice.
In the meantime, heat oil in a saucepan/pot. Rub chicken pieces with spices and add to pot (note: if pieces are large then cut slits in chicken and rub spices inside and under skin if the skin is on).
Add onions & whole spices.
Fry until onions are soft.
Add rice & turmeric and add a little broth over the rice, mix up somewhat.
Cover and reduce heat to medium- low - cook for around 45 minutes. Note: put a paper towel between cover and pot so that it absorbs the extra water.
Enjoy!