489934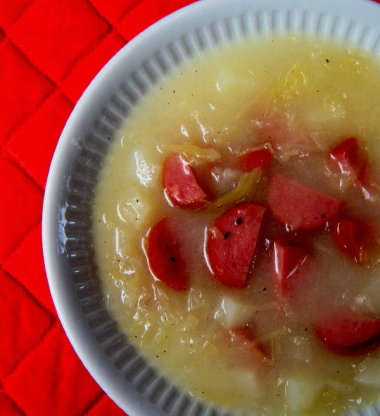 This is very easy and delicious soup. Each family in Czech Republic makes it a little bit different this is the way we do it.
Top Review by 3isles
This is delicious! It is easy and wonderful. I kept to the directions. My dh and I loved it. reminded me of a soup a friend and I had at Clarence's Chowder House in Portsmouth NH, a hundred years ago. We used to dream of that soup and tried to copy it but never got it right. Now I don't have to dream of it, I can eat it!!!
Put the onions into the saucepan with the little bit of oil and cook over low heat until lightly yellowed do not brown.
Add water and potatoes with salt and caraway seed. Let it cook for few minutes then add sauerkraut and polish kielbasa.
Let it cook for at least 20 minutes or until potatoes are soft. Then add some sour cream, pepper and vinegar if needed.