Curry Pea Salad With Almonds
iris5555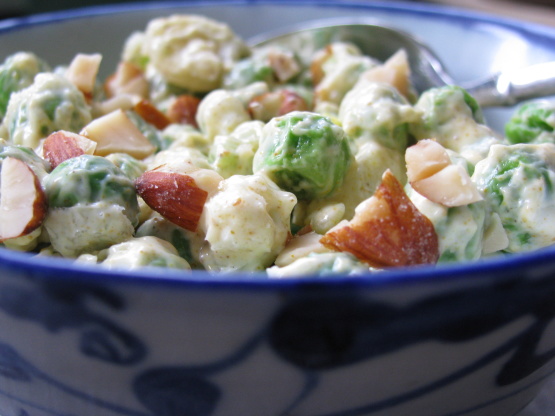 I found this recipe on the internet over the weekend and decided to make it for a BBQ. Everyone loved it...even the ones who hate peas.

this is yummy, i don't make it exactly as written, but use it as a guideline. i use raw fresh peas most of the time, and add less mayo and more curry powder. nice tangy crunchy salad!
Preheat oven to 350 degrees and toast almonds on a cookie sheet (about 10 min). Let cool and then chop.
Combine FROZEN peas, green onions, 3/4 of the almonds, and water chestnuts. In a separate bowl combine and mix the mayonnaise and curry powder. Fold mayonnaise mixture into the peas. Add salt and freshly ground black pepper to taste.
Add the remaining almonds right before you serve.