Curried Red Lentil, Chickpea and Kale Soup
bcoteNH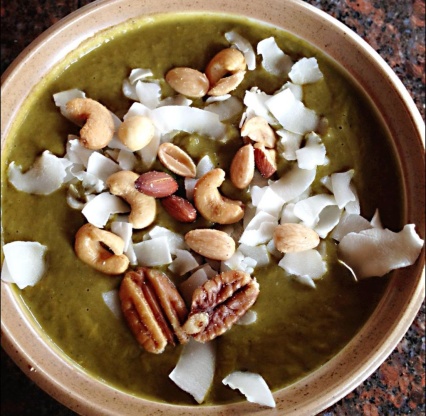 Swiss chard or Collards may be substituted for kale

This worked great! A few notes: I used about 1 1/2 cups of cooked chopped kale. The recipe isn't quite clear about what to do with the chickpeas. I did start with 1 cup dry, and cook them normally prior to adding when the lentils went in. As you can see from my photo, I used mixed nuts instead of peanuts. Reminds me a bit of a kale dal recipe that I like.
Saute onion, carrots and celery in nonstick pan, about 5 to 7 minutes, use a little water to prevent sticking of burning.
Precook kale in large saucepan of boiling water for about 2 to 3 minutes.
Add drained kale, lentils, chickpeas and broth to carrot mixture, bring to a boil.
Cover, reduce heat and simmer for about 15 minutes or until lentils are tender.
Allow soup to cool, then puree in blender, Once soup is blended return to pan. Add coconut milk, ginger, spices and salt. Stir well.
Cover and simmer for 10 minutes.
Add garnish of coconut and peanuts when served in bowls.