lazyme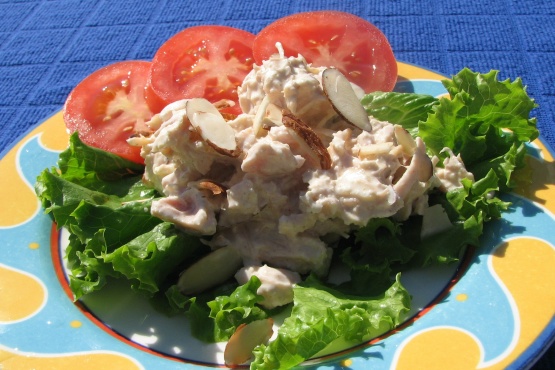 I usually double this recipe and even make a little extra of the "dressing". Otherwise I find it to be a little on the dry side. Great for sandwiches, on top of green salads or served on top of tomato slices!
Boil several large, split chicken breasts (with bone-in, skin on) in salted water until done (about 1 hour).
Once cooled, pull meat from bone and chop coarsely, making enough for 2 and 1/2 cups.
Mix 2 and 1/2 cups chopped, cooked chicken breast with 1/4 cup toasted slivered almonds.
Mix remaining ingredients (mayo thru curry powder) creating the "dressing" and toss with chopped chicken and almond mixture.
Chill for 2 hours.