Deb Wolf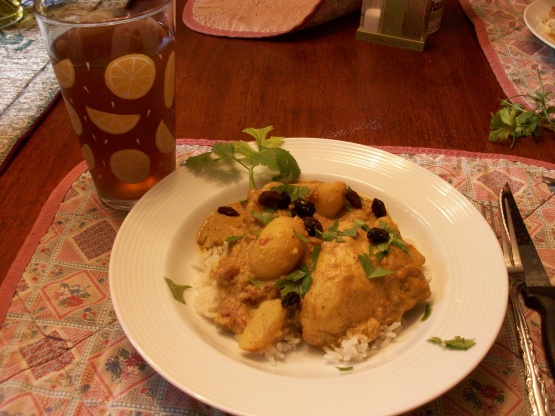 Loosely based on a recipe I cut from the Daily Herald years ago. I added this, omitted that until it was just right. I use RedGold brand of tomatoes with HOT chili peppers, use whatever level of heat you enjoy. You can swap out for plain tomatoes and leave out the cayenne and it's still yummy. Use a large high sided skillet to contain spatters. I use my non-stick dutch oven. Pre-measuring everything helps.

WOW...., I found this through a search for using "ON HAND" ingredients Chicken Breasts Potato, Curry were the selections I chose. The site is:http://www.supercook.com/#/recipes/All%2520recipes and I was directed to a list of optional sites and recipes. As I am already very comfortable with Food.com that was where I selected my choice. THIS IS AMAZING and very easy. I only changed two things; I used fresh new red potatoes (quartered) with about 1/2 cup of water instead of canned. I also used Greek fat free plain yogurt instead of sour cream. Followed the steps exactly, but simmered on low about 10 additional minutes for the fresh potatoes. Served over mildly curried Basmati rice. I will never use another curried chicken recipe again. This is amazing and can be prepared a little ahead of time and reheated. Thank you so much for posting Deb. You picked a real GOTO Winner... (*.*)....... Laura Allarie from Princeton, BC
Measure spices into a small bowl.
Place garlic, ginger and onion in another bowl.
Place skillet over medium heat, add oil and butter. Wait for the butter to melt.
Add the spices; stir and cook for a minute or two until the spices become fragrant.
Add onion, ginger and garlic. Cook, stirring frequently, until softened, about 5 minutes.
Cut the chicken in half crosswise, so you have 6 evenly sized pieces.
Add the chicken and cook 3 minutes, flipping the chicken occasionally.
Add potatoes, tomatoes with it's juice and cilantro.
Reduce heat if necessary and simmer 20 - 30 minutes until chicken is cooked through.
Remove from heat. Stir sour cream into sauce.
Serve immediately with hot rice and garnished with raisins.