Crunchy Chunky Chicken Wrap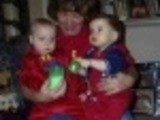 This easy to put together recipe makes a light lunch for one person, but the recipe can be double, tripled etc. to feed more.
Directions
Mix the dressing ingredients and spread on one side of the flour tortilla.
Layer the chicken, carrots, pineapple, tomatoes, pecan pieces and lettuce in the middle of the tortilla and sprinkle with salt, pepper and red wine vinegar.
Fold up one end of the tortilla, then roll the sides over the chicken mixture to enclose, eat and enjoy.
Most Helpful
This was good!!! I would make it again. I didn't have mayonnaise so i used Sour cream instead also i grated the carrot. The only things i would do different would be, to use mayonnaise and maybe use crushed pineapple and drain it really well.
Yummy, I used only half the mustard and didn't have any vinegar, but it was still really good. Thanks :)
I didn't have all ingredients on hand for this one, but I used your sauce recipe and mixed it with cubed chicken for a nice spin on chicken salad sandwiches. It was absolutely delicious! Thanks for sharing, I'll be using your recipe again!