Crumb-Crusted Baked Salmon With Lemon Caper Sauce
Cook4_6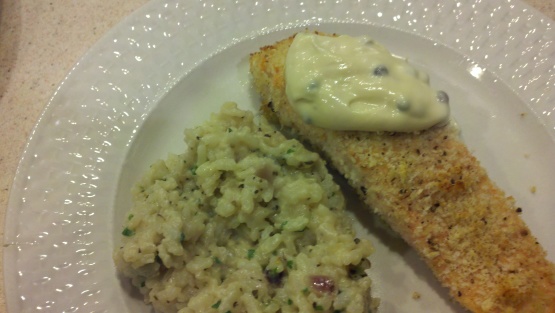 The recipe's title is a mouthful, but it does pretty much describe the dish - except it should also say "Wonderfully Easy and Delicious" at the start. Courtesy of the Francisco Bread Company which provides a photo of it looking yummy on a bed of couscous nestled beside baby salad greens & a lemon wedge.
Preheat oven to 400°F.
In a food processor, process bread slices and spices including S & P for 10 seconds or until it forms soft bread crumbs.
Brush top and sides of salmon fillets with olive oil.
Dip the salmon in crumbs to coat top & sides & place in an oiled, shallow baking dish.
Bake for 10-12 min., or until crumbs are golden brown & salmon flakes easily.
Meanwhile, stir together mayo, mustard, capers, & lemon juice.
Spoon sauce on cooked salmon, or on the side, as you like.