~Nimz~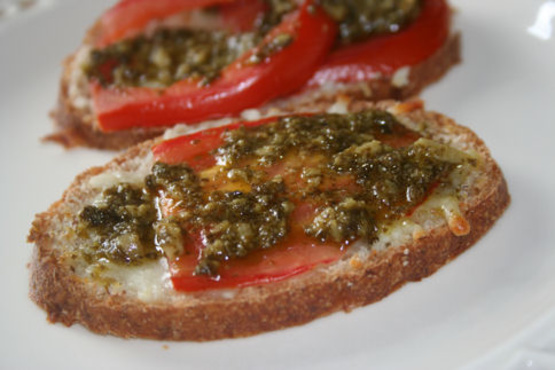 An eye catching appetizer for Christmas parties (red, white and green). I saw this in "Holiday Appetizers" by Favorite Brand Name Recipes and wanted to save it here. I will be making this for the holidays this year.
Preheat oven to 400°F
Slice baguette into very thin diagonal slices.
Slice tomato vertically into four 1/4 inch slices.
Place baguette slices on non-stick baking sheet, top each with 1 Tbsp cheese, then 1 slice of tomato.
Bake approximately 8 minutes or until bread is lightly toasted and cheese is melted.
Remove from oven, top each crostini with about 1/2 tsp pesto sauce and garnish with fresh basil if desired.
Serve warm.