Crock Pot Sausage Pasta Stew
CoffeeB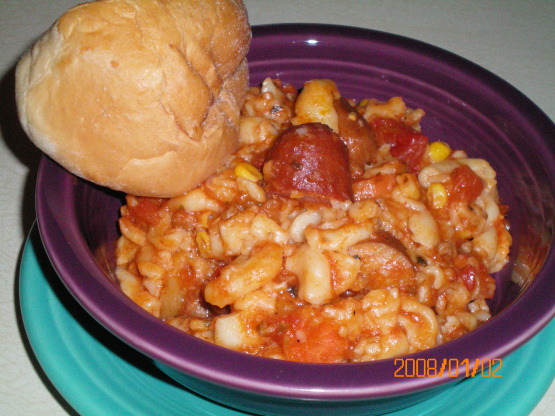 This is a favorite of my family.

This is one of my favorites. The picture posted looks nothing like the stew. It's way too thick! The reviewer who used potatoes instead of kidney beans ruined it in my opinion! My variations; I also add GARLIC and zucchini with the veggies and I add 3-1/2 cups water, 1/2 cup red wine. I add a bay leaf and a can of cut-up stewed tomatoes. With the peas and spices ,I also add fresh minced parsley and a teaspoon of chili powder. This is supposed to be more chili -like than stew- like.I top each serving with mozzarella/cheddar blend and serve with garlic toast. Prego heart-smart pasta sauce is wonderful in this. I always have all the ingredients on hand for this one! The original recipe is from Taste of Home and is made with turkey Italian sausage which is way less greasy.
1

lb Italian sausage, casings removed

4

cups water

1

(26 ounce) jar meatless spaghetti sauce

1

(16 ounce) can kidney beans, rinsed and drained

2

medium carrots, cut into 1/4-inch slices

1

medium red pepper, diced
1⁄3 cup chopped onion
1 1⁄2 cups uncooked spiral pasta

1

cup frozen peas

1

teaspoon sugar
1⁄2 teaspoon salt
1⁄4 teaspoon pepper
In a nonstick skillet, cook sausage over medium heat until no longer pink. Drain and place in a crockpot.
Add water, spaghetti sauce, beans, carrots, red pepper and onion and mix.
Cover and cook on low for 7-9 hours or until vegetables are tender.
Stir in the pasta, peas, sugar, salt and pepper and mix.
Cover and cook on high for 15-20 minutes or until pasta is tender.