gailanng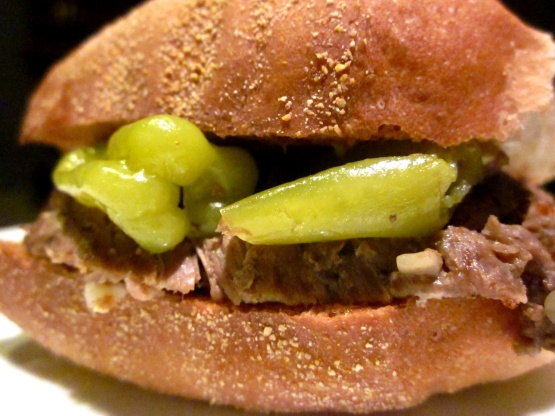 I start this after dinner the night before and forget it so much that when I get up in the morning I wonder what smell so good! I usually do a quick stir about 12-13 hours into it just so anything thats not in the juice gets mixed. Serve it with Mozzarella cheese on crispy rolls for a really good sandwich thats easy.

"It's too easy, can't be good" is what I thought when I read this recipie, until I tried it today. My husband said "Why are you putting it in the crock pot tonight, when we're going to eat it tomorrow night?". It was SOOO good, I am replacing my usual roast recipie with this one. Absolutely lucious!
1360.77-1814.36

g boneless beef roast (I use whatever is on sale and trim some but not all excess fat)

28.34

g package Good Seasonings Italian salad dressing mix

If you like add

1

finely chopped onion (optional)

1

finely chopped green pepper (optional)

170.09

g jar pepperoncini peppers (optional)
Place roast in crock pot.
Add onion and/or peppers if you like.
Sprinkle dry mix over the top of all.
Cook on low for 24 hours. (Note: NO liquids at all. The moisture stays trapped in the crockpot as long as you don't open it up.).