Crock Pot Corsican Chicken
KateL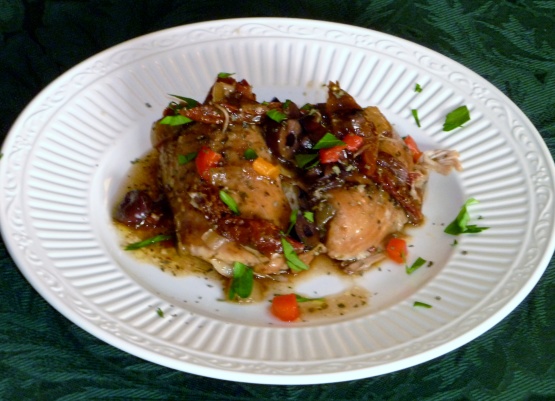 I nice crockpot recipe for a great chicken dish. I use this Herbes de Provence recipe for what is called for. It's great to have made up ahead of time just for dishes like this. The use of chicken thighs instead of breasts makes the dish cheaper and more flavorful. Don't let the long ingredient list scare you away. It only looks like a fancy pants recipe. Once you throw it all together in the crockpot, the most work you have to do is in making the sauce at the end.

Top Review by KateL
Loved the flavor, it took 30 minutes instead of 2 to reduce the sauce. I think if the thighs had been floured first and browned, the roux would have thickened quicker. I used dry sherry instead of vermouth, as my usual substitution. Made for 1-2-3 Hit wonders.
Mix butter, herbs, salt and pepper, and garlic. Rub on chicken pieces. Put into crock pot. Add onion, tomatoes, consommé and vermouth. Cover. Put on low for 4-5 hours.
Add olives and peel. Recover. Put on high for 30 minutes.
Remove chicken and keep the pieces warm.
Pour juices into saucepan or skillet. In separate cup, combine cornstarch and water. Mix until smooth. Stir into juices. Bring to a boil, and cook for 2 minutes. Pour over chicken. Sprinkle with basil, parsley and pimentos.