Crock Pot Beef Barley Mushroom Soup
IngridH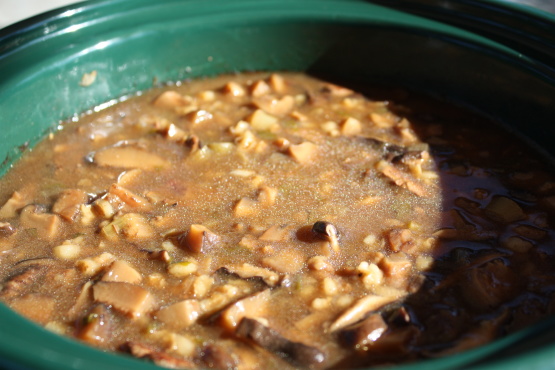 I copied this recipe from one of Gordon Ramsay's cookbooks. I really enjoyed this. I chopped the mushroom finely in my food processor as my DD will not eat mushroom unless they are pulverized and there are a lot of mushrooms in this recipe. You can do all the prep the night before, then just throw everything in the crockpot before going to work and come back to a nice batch of soup. Prep Time includes soaking of dehydrated mushrooms.

This was a nice, hearty soup- great with some fresh bread to sop up the broth. As suggested, I did all my prep the night before, and just tossed everything in the crockpot before leaving for work in the morning. I let it cook about 9 1/2 hours, and the beef was fall-apart tender when I served it. There are a lot of mushrooms in this soup- I honestly think 8 ounces each of the fresh and dried are too much. I cut back to 5 ounces dried and 6 ounces fresh, and this almost didn't fit into the pot. If you love mushrooms, try this dish. Although the shitakes are wonderful, I'd also like to try this with a mix of different mushrooms. Thanks for posting a great recipe!
8

ounces shiitake mushrooms, dried

3

cups hot water

1

tablespoon vegetable oil

8

ounces stewing beef, trimmed, cut into bite size pieces and patted dry

4

stalks celery, diced

2

onions, finely chopped

1

tablespoon garlic, minced

1

tablespoon gingerroot, minced
1⁄2 teaspoon black pepper
1⁄2 teaspoon Chinese five spice powder

8

ounces shiitake mushrooms, fresh, stems removed and caps sliced
2⁄3 cup barley

4

cups beef stock
1⁄4 cup soy sauce
green onion, finely chopped
In a bowl, combine dried mushrooms with hot water, let stand 30 minutes. Strain through a sieve lined with paper towel, reserving liquid. Remove stems. Pat dry and chop finely. Set mushrooms and liquid aside, separately.
In a skillet, heat oil over medium heat for 30 seconds. Add beef, celery, onion and reserved mushrooms; cook, stirring for 1 minute. Reduce heat to low, cover and cook until vegetables are softened, about 8 minutes. Add garlic, ginger, pepper and five spice; cook, stirring for 1 minute. Add fresh mushrooms and barley; toss to coat. Add stock and reserved mushroom liquid; bring to a boil over high heat. Transfer to slow cooker stoneware.
Cover and cook on low for 8 hours or on high for 4 hours, until barley is tender. Stir in soy sauce.
Ladle into bowls and garnish with green onions.