Crock-Pot Asian-Sesame Pork Ribs
Brenda.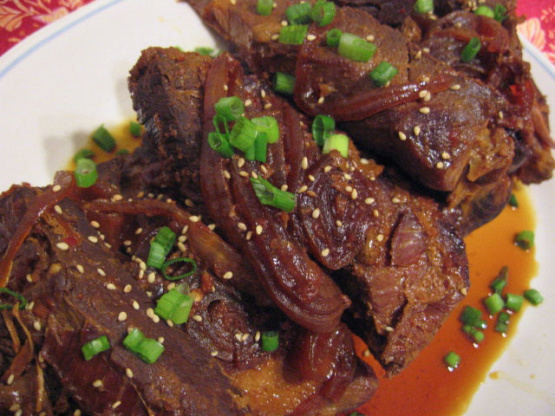 This is an easily assembled slow cooker recipe. I serve the sauce on the side, along with white rice and Chinese pea pods or sugar snap peas.

Excellent! My DH raved at how flavorful and tender the meat was. I actually put this together in my crock pot Sunday afternoon and refrigerated until Tuesday morning before work. I put the crock in the base and turned to low and let it cook all day while I was at work. What a heavenly scent to come home to. I loved that these are ingredients I have on hand (with the exception of the ribs) and can whip it up on a whim. I served this with Recipe #381017 for an extraordinary meal that was nearly zero effort after a long day at work. Thanks for sharing. DH has already said I can make this again soon :)
Place onions in bottom of slow cooker.
Combine brown sugar, soy sauce, ketchup, honey, vinegar, garlic, ginger and red pepper flakes in large bowl.
Add ribs and turn to coat.
Place ribs on top of onions in slow cooker.
Pour sauce over ribs.
Cover and cook on Low about 5 to 6 hours. (Timing always depends on your slow cooker. Each cooks a little differently.)
Plate the ribs. Sprinkle with sesame seeds and chopped green onions.
Serve with white rice and Chinese pea pods or sugar snap peas.