Croatian Lamb/Beef Stew With Green Peas
nitko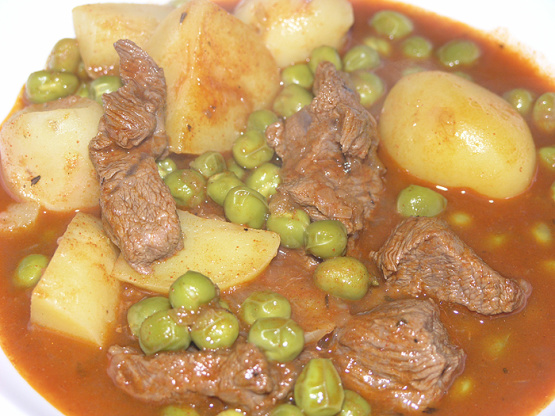 This stew is much better if using lamb, but it is also nice with beef. The procedure is the same for both meats. Instead of potato you can use flour noodles, but they have to be small.

Very nice indeed... It didn't specify if this was for the stovetop, oven etc so I cheated and shoved it all in the crockpot for 6 hours.. yum! our sauce didn't thicken because of that, but we were too hungry to reduce it seperately so enjoyed it a little thinner. Not a problem, it was very tasty. An excellent all-in-one meal that we will be repeating in the midweek rush, as we love lamb. Please see my Rating System: 4 excellent stars for a recipe that we will enjoy making again and again. Thanks!
Cut meat into 2-3 cm large pieces.
Finely mince onion and put it into a pot with lard. Sauté onion until becomes soft and transparent.
Add meat and sauté until meat starts to release liquid.
Now add paprika, thyme, salt and pepper and stir.
Add wine and sauté until alcohol evaporates. Add some water and cook for about 30 minutes.
In the meantime peel potato and cut it into small cubes (1-2 cm).
Remove green peas from shuck. Add green peas and potato into stew and cook until all ingredients become soft and liquid is reduced a bit. Seve hot.