Crispy Baked Radish Chips (Low Fat/Low Carb)
vrvrvr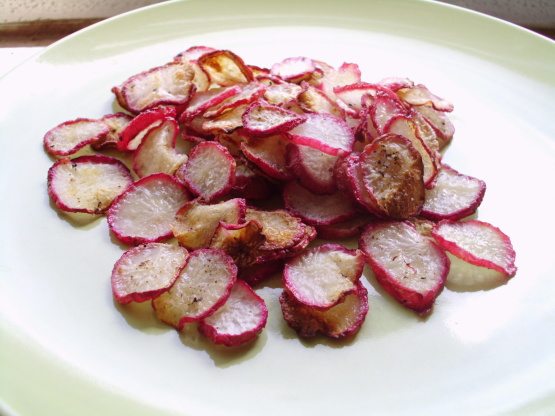 A great snack for when you want something salty and delicious but don't want the load of calories that normally comes with crispy snacks. Even those not watching thier caloric intake will love these so make a big batch. feel free to experiment with different seasonings. Garlic, cayenne, Italian blends and lemon pepper are some suggestions. ***note*** If you want larger chips use a japanese daikon radish. The taste and texture will be the same.

Top Review by vrvrvr
My 11 year old son and I made this fun recipe together using radishes from the farmers' market. While it is a labor intensive recipe (the slicing, the turning, the oven-babysitting) we can't say enough good things about the TASTE! What a revelation! Something magical happens in the oven, and we scarfed these up in no time. We had a mix of some crispy/some not crispy but it hardly mattered. Thanks for posting this memorable recipe - we would certainly make it again!
Preheat oven to 375 degrees.
Slice radishes into very thin chips and spread on a cookie sheet that has been sprayed with non-stick cooking spray.
Lightly mist radish slices with cooking spray and then sprinkle with salt and pepper. (if using other seasonings, now is the time to add them).
Bake for 10 minutes, flip, and bake for another 5-10 minutes or until crisp. Time may vary so watch these after flipping.