teresas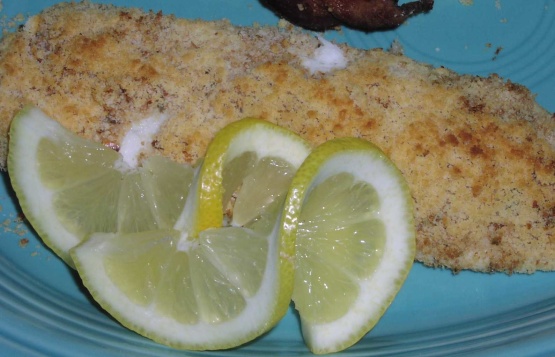 This is from a cookbook put out by a local elementary school in my town. It's easy and healthy and delicious!

I used this recipe to deconstruct my http://www.food.com/recipe/parmesan-crusted-tilapia-olive-garden-copycat-157080 recipe. This fish turned out fantastic; flakey on the inside and crisp on the outside. I used panko breadcrumbs, which I think helped with the crispiness. I served this on top of the other components of the recipe: alfredo noodles topped with roasted vegetables. It was outstanding!
Preheat oven to 500 degrees.
Coat wire rack with cooking spray--place on a baking sheet.
Pat fish dry.
Mix lemon juice, oil, and spices. Dip fish into this mixture, and then into the bread crumbs.
Sprinkle with cheese.
Bake about 10 minutes.
Serve with a sliced lemon.