Ameka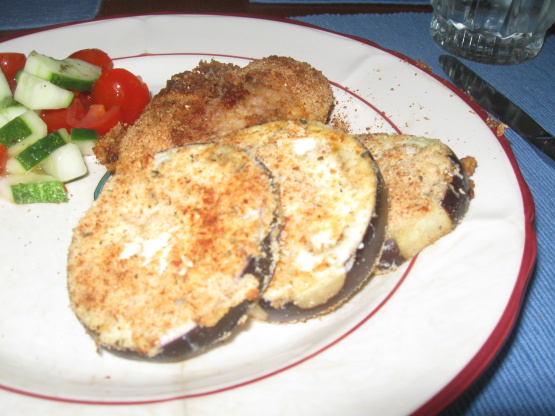 This recipe is so quick and simple yet utterly delicious! If you like crispy food and eggplant, you're bound to like this one.

"A Good Thing," thanks for posting was looking for another eggplant recipe but not heavy using oil or in a casserole. I am watching my salt so did not add any, used the "dry" Parmesan cheese and the mayonnaise with olive oil. I think some of my eggplant pieces were too big so had to crush a few crackers (no salt on top) to finish the few I had. Did everything else and when all baked I returned all the pieces back to oven to crisp up.
1

large eggplant, peeled and cut crosswise in 1/2 inch slices
1⁄2 cup mayonnaise

1

tablespoon dried onion flakes (optional)
1⁄4 teaspoon salt
1⁄3 cup dry breadcrumbs
1⁄4-1⁄3 cup grated parmesan cheese
1⁄2 teaspoon dried Italian seasoning
Preheat oven to 425°F.
In a small bowl stir together mayonnaise, dried onion, and salt.
In a shallow dish mix bread crumbs, Parmesan cheese, and Italian seasoning (or just use Italian breadcrumbs).
Brush eggplant slices with mayonnaise mixture and then coat in breadcrumb mixture.
Place eggplant slices on a lightly oiled baking sheet or shallow baking dish.
Bake in hot oven for about 12 to 15 minutes turning about half way through.
Enjoy!
(This is a take-off from a recipe I have on a CD called "One Million of the World's Best Recipes", 2000).