Crispy Baked Chicken Strips
VickyJ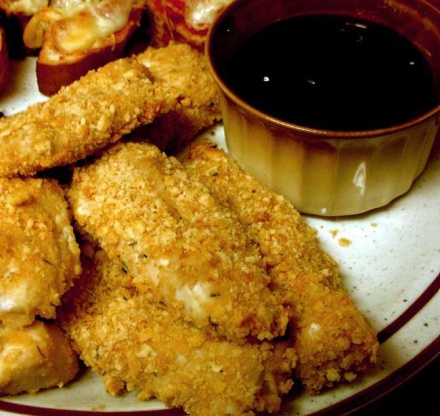 These are delicious! And much more cost-effective than buying chicken nuggets. Nice and juicy, yet crisp on the outside, too. Yummy, yummy! For an Italian twist, omit chili powder and substitute Italian seasonings. Makes two dinner servings, or 4 lunch/appetizer servings.

Top Review by Nexis
Very moist on the inside and crunchy on the outside. Mixed half parmesean cheese wth the bread crumbs. Cooked 10 minutes then flipped them over and cooked another 10 minutes. Also dotted them with butter before baking. Thank you for such a nice recipe. My family and I enjoyed the recipe very much.
Cut chicken breasts into thin strips, about one inch wide.
Longer sections can be cut in half to have uniform pieces.
Mix cracker crumbs and seasonings well.
Dip chicken pieces into egg mixture, then dredge in crumb mixture.
Place on baking sheet sprayed with cooking spray.
Bake at 375 degrees F, for 10-12 minutes, until crispy on outside and lightly browned.
Dip into favorite sauce, or enjoy just as they are!