Creamy Tortellini Primavera
Bev I Am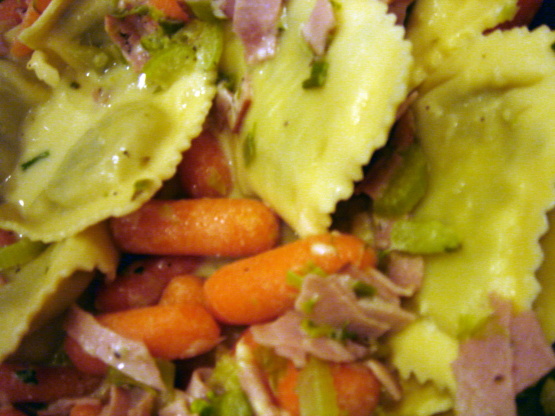 A great dish to serve when you want to get a meal on the table in a hurry! You can substitute chicken or shrimp for the ham if you wish!

Delicious, Yooper! I used a cheese + spinach tortellini which was a perfect compliment to this Primavera dish. I used sliced green onions and added a touch of asparagus to the veggies. I also added a bit more parmesan to help thicken the sauce just a bit more to our liking. Thanks for the lovely supper, Yooper : )
In a large saucepan, melt butter over medium-high heat. Add onion and cook to 5 minutes or until softened, stirring occasionally.
Add carrots, celery, chicken broth,6 and black pepper. Bring to a boil.
Reduce heat to low, cover, and simmer 8 to 10 minutes, or until carrots are tender.
Meanwhile, cook tortellini according to package directions. Drain, transfer to a large serving bowl, and cover to keep warm.
Stir ham and cream into carrot mixture and cook over low heat until just heated through.
Pour cream mixture over tortellini, add Parmesan cheese, and toss to combine.