Creamy Potato Cheese Soup
Annacia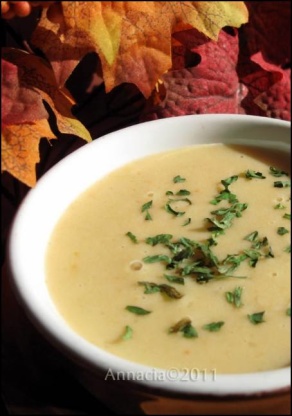 A very thick and creamy soup. It takes a little bit of time to make this soup, but none of the steps are difficult. The "trick" is using evaporated milk, which makes the soup very stable and keeps it from separating, a good choice if you want to have leftovers. You will need a blender for this recipe.

Great Fall soup. I did need to thin it some but it was still thick and rich tasting. It's really filling so a small bowl goes a long way. DH loved it as it is, personally I think I'll add a just a small amount of buffalo wing sauce to my serving next time (which will be at lunch tomorrow :D) for a touch more zip.
Add oil to a 4 quart or larger soup pot over medium heat.
Add onions, celery, carrots and garlic and a little salt and pepper and cook until soft and just starting to show color. (15 - 20 minutes) Stir a few times.
Add potatoes, stock, water, parsley, bay leaves, and a little more salt and pepper to the pan and cook covered at a high simmer or low boil (bubbling gently) for 30 to 45 minutes until the potatoes are just starting to fall apart when stirred and the other vegetables are very soft. Lift the lid and stir two or three times during this stage.
When the vegetables are done, turn off the heat and remove the lid and let the pot rest for 10 minutes or so to cool a bit before the next step.
REMOVE THE BAY LEAVES. Blend the soup in three or four batches in a blender until smooth. Watch out for the steam! Transfer it to a new pot, or to a bowl and then back to the original pot.
Over medium heat, stir the evaporated milk into the soup. Add a bit more hot water or stock at this point if you would like a thinner soup. Once the soup is steaming, stir in the cheese in small batches until melted.
Taste and adjust the seasoning as desired. You can add other flavorings at this point - more salt and pepper, a dash of cayenne, smoked paprika, a TBS of brandy, a dash of nutmeg, more minced parsley, or any other spice or herb you might like.