Creamy Parmesan Cheese Sauce
Boomette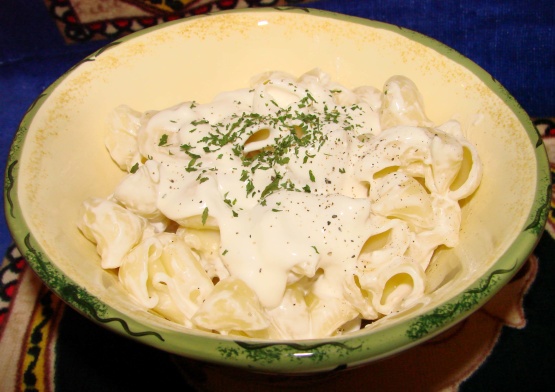 This is great served over almost any vegetable or cooked pasta. I have also made this on the stovetop. Just stir continuously for about the same amount of time.
Very easy to whip up if you have some extra noodles. The only thing I would do differently next time is to use 6 oz of cream cheese instead of 8 oz. I also added some green peppers to give it a pop of colour and it works very well. Great recipe!
Microwave cream cheese, milk and parmesan cheese in 1-quart microwave safe container.
Microwave on MEDIUM (50%) 6-8 minutes or until sauce is smooth, stirring every 2 minutes.
Stir in seasonings.
Toss with hot cooked pasta or serve over cooked veggies.
You may want to add some garlic, extra pepper, or other spices because this is a very mild cheese sauce. I have used a couple of cloves of garlic sauted in a little butter, when I cook it on the stove, and really like it that way also.