Creamy Norwegian Fish Soup
984416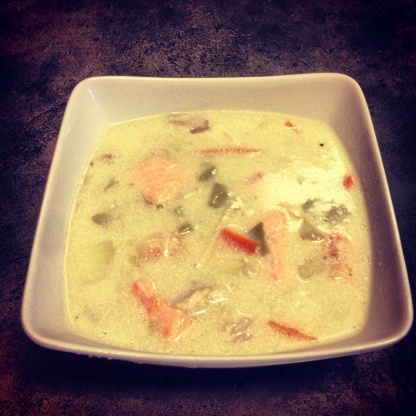 When we lived in Norway we used to eat lots of fish...this recipe reminds me of a fish soup which was very common there. You can use other fish and shellfish. The potatoes and tomatoes are ingredients I have been adding over the years and listed them as optional.

Top Review by 984416
Delicious! Just moved to the Stavanger area and wanted to recreate the recipe we had at one of the local restaurants. This is the closest I could find to the original we had before; I doubled this recipe for my family and still didn't have enough for leftovers! I added parsnips and celery, as well as adding two different types of fish (cod & salmon), I didn't include the tomato. We will be making this again soon.
36.97

ml butter

36.97

ml plain flour

946.36-1182.95

ml fish stock or 946.36 ml vegetable stock

1

medium carrot, finely chopped in strips

236.59-473.18

ml leek, finely chopped in strips

1-2

potato, peeled and cut into small cubes (optional)

396.89

g can chopped tomatoes (optional)

12

peeled raw shrimp (approx)

113.39-170.09

g catfish (or fish of your own choice)

118.29

ml heavy cream

59.14

ml chopped fresh parsley
salt and pepper

29.58

ml sour cream (optional)

9.85

ml lumpfish caviar (optional)
Melt 2 tablespoons of the butter, add the flour, stir for about 2 minutes without browning the flour.
Add the fish stock at intervals, stirring all the time, let it boil gently for 5-10 minutes.
Melt the rest of the butter and saute the carrots and leek and potatoes, if using, for approx 10 minutes.
Add the tomatoes (if using) and simmer for another 5 minutes, then add the shrimps, mussels, fish and the cream.
Simmer for another 5 minutes, or until the fish and shellfish are tender.
Add the parsley and salt and pepper to taste.
Serve garnished with sour cream and the lumpfish caviar.