Creamy Iced Vanilla Caramel Coffee
diner524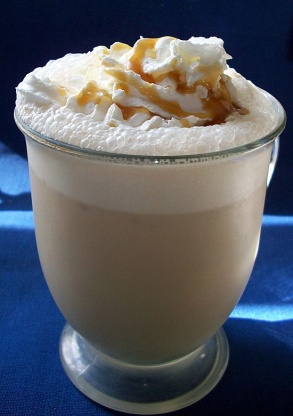 Cooled brewed coffee is combined in the blender with milk, nondairy creamer, caramel topping and ice and blended until smooth. Personal tip, serve in glasses just out of the freezer.

I gave this 3 stars. Updating my review of this recipe. I've sinced made this again with a few changes. I brewed my coffee allowed it to cool a bit then added my sugar free caramel. I allowed to cool a bit longer then added the french vanilla creamer and milk. I left out the ice cubes and hand mixed everything together. Placed it in the refrigerator and it was really good. My pervious rating was June 27th 2007. I liked this coffee recipe it was good. I would have liked to have more vanilla and caramel taste. I had to halve the recipe as my blender would not hold the full recipe. When I make it again I will try more vanilla and caramel to taste. Thanks for posting. Christine (internetnut)
4

cups brewed coffee (cold or room temperature)

1

cup milk
1⁄3 cup french vanilla non-dairy coffee creamer
1⁄4 cup caramel ice cream topping (or more to taste)

3

cups crushed ice
canned whipped cream (optional)
Place all ingredients into blender and blend on high until the ice is completely smooth. Pour into four glasses and top with a dollop of whipped cream.
Serve immediately.