Creamy Cauliflower Soup With Greens
Ambervim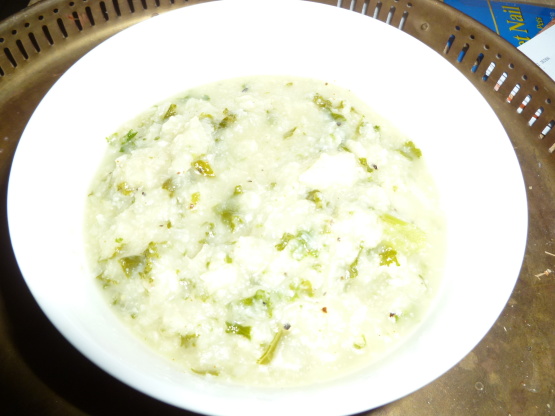 This tasty, healthy soup and a beautiful color of green.
1

tablespoon olive oil (plus some for drizzling)

1

cup onion, chopped

4

teaspoons garlic, chopped

3

lbs cauliflower, cut into 1 inch pieces
4 1⁄2 cups water
1⁄4 cup dill, fresh chopped (more for garnish)

5

large kale leaves, roughly chopped (or collard or spinach)
Heat oil in a large pot over medium heat. Cook onion, covered, until soft, 4-5 minutes.
Add garlic and pinch of salt and cook for 3 more minutes.
Add cauliflower and pour in water until it reaches just below the tope of the cauliflower.
Bring to a boil over high heat.
Add 2 tbs dill. Reduce heat to low and simmer until cauliflower is just tender, about 10 minutes.
Stir in greens and simmer for 3 minutes.
Blend with stick until smooth, adding water if it is too thick. If you don't have a stick, cool a bit before blending to puree in your blender, in batches.
Return to pot and reheat.
Garnish with dill, black pepper and a drizzle of oil and a pinch of sea salt.