Creamy Broccoli and Cheddar Soup
Parsley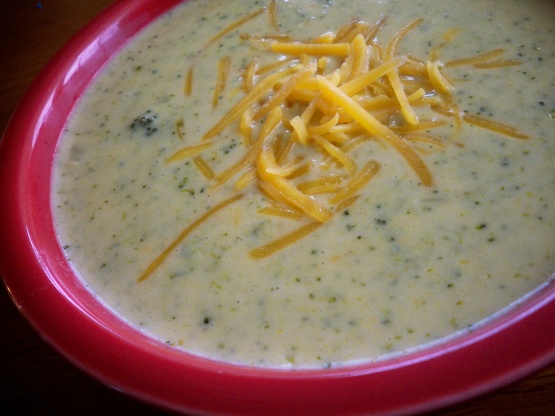 Following the directions and ingredients I had to start adding to this recipe. It tastes like bland broccoli puree (not soup, it's too thick with that much broccoli to be a soup). I had to double the cheese and keep adding more and more salt, pepper, nutmeg and cayenne along with a little dry mustard to try and help the cheese flavor. It was edible, but it wasn't soup, it was like a puree mash with a little broth that seeped out of the broccoli once in a while. Only one person out of four thought it was good, the rest of us agreed to look for a different recipe.
Melt the butter in a big pot over medium heat.
Add in onion; cook until soft, about 5 minutes.
Add in garlic and cook until fragrant, about 30 seconds.
Add the broccoli stalks and cook until bright green and just beginning to soften, about 5 minutes.
Stir in the broth; increase heat to med-high and simmer until the stalks are tender, about 5 minutes.
Add the florets, cream, and nutmeg; simmer until the florets are tender, about 5 minutes.
Puree the soup in two batches in a blender until smooth; return to the pot, and bring to a simmer over medium heat.
Stir in the cheese until melted and season with salt and cayenne.
Serve, garnished with extra cheese (the soup can be refrigerated for up to 3 days; reheat over medium heat until hot, but do not boil or the cheese will separate).