gailanng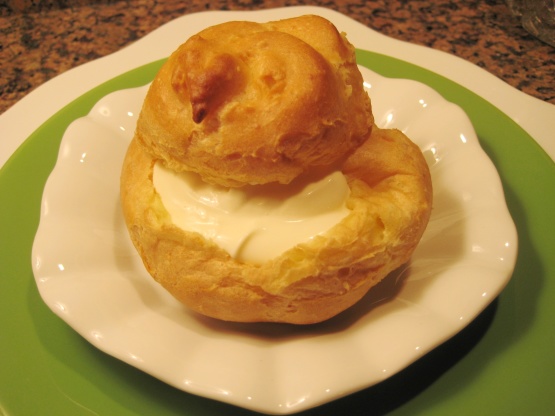 This dough is used to make cream Puffs, Eclairs, Paris-Brest and Gateau St-Honore and can be filled with "Pol Martin-Chocolate Pastry Cream" And you can dip them in Pol Martins Caramel Coated Cream Puffs, recipe will follow. Don't let the number of step scare you, it really is easy. Hope you enjoy :) This will make a beautiful presentation over the Holiday Season
preheat oven to 375*F butter and lightly flour a cookie sheet.
place water, salt, butter and sugar in heavy-bottomed saucepan. cook over medium heat. continue cooking for 2 minutes after liquid starts to boil.
reduce heat to low. add all of flour and mix rapidly with wooden spoon. cook dough until it no longer sticks to the spoon or fingers when pinched. be sure to mix constantly.
remove pan from heat and transfer mixture to bowl. let cool 3 minutes.
incorporate eggs one at a time, (mixture must regain its smooth texture before next egg is added) mixing well between additions. the finished dough should be shiny and smooth.
fit pastry bag with plain rounded tip. fill pastry bag with dough and squeeze out shapes of your choice; the size of an egg for cream puffs or 4inch long strips for eclairs. leave space between each.
brush tops of shapes with beaten egg, smooth tails left by pastry bag. let stand at room temperature for 20 minutes.
bake 35 minutes in oven. turn off heat and postion door ajar. let stand 45 minutes.
when cold fill with your choice of pastry cream or whipped cream. glaze tops with caramel or chocolate.