Peter J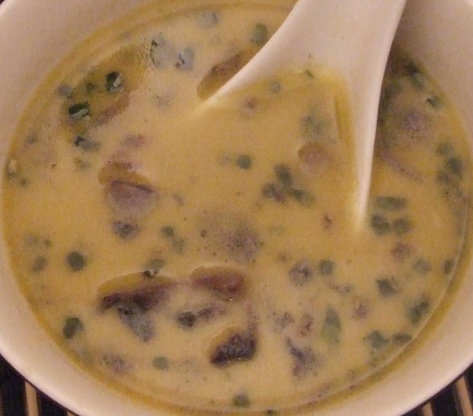 This is a lovely entree and is very easy to prepare. It is adpated from a recipe in the Australian Women's Weekly "Cooking for Couples" cookbook, published in 1982 and still used frequently!

Really tasty! I used some large portabello mushrooms and all the flavours came together so well. Only change I made was not to blend the soup but instead chopped the mushrooms into about 1cm cubes, I always like soups where the main ingredient stands out a bit. It had both a creamy taste along with a 'meaty' mushroom flavour which I loved.
Chop mushrooms roughly.
Melt butter in pan, add mushrooms.
Cook covered for 10 mins over low heat.
Add crumbled stock cube, water, sherry and mustard.
Bring to boil, reduce heat and simmer 15 minutes.
Puree mushrooms and liquid with hand blender.
Return to saucepan, add cream and season with salt and pepper.
Reheat gently, stir in shallots.