Cream of Cauliflower and Bacon Soup
Prep 20 mins
Cook 25 mins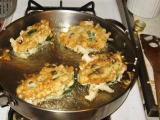 Yes, this is the one you want to address a man-sized appetite and to additionally satisfy the pressing Winter need for comfort food. The original rceipe came from "A Cookbook for the Common Folk."
Directions
In a large skillet, over medium heat, saute the cauliflower, onion and crumbled bacon in the margarine.
Whisk in the flour.
Add the chicken stock, milk and Worcestershire sauce.
Stir in the cheese and, as soon as the cheese melts, the parsley.
Continue to simmer over low heat until the cauliflower is tender.
Most Helpful
A simple and comforting soup. I increased the worcestershire sauce and added some cayenne pepper for a bit more flavor. My husband loves cauliflower and this soup was a great treat for him on a cold night.