Cream Cheese & Herb Stuffed Chicken Breasts
Dr.JenLeddy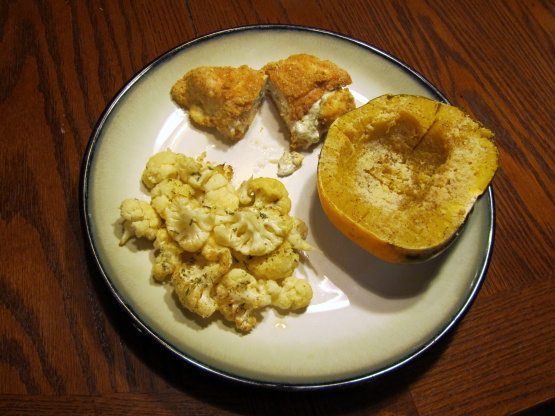 This is a versatile recipe using your favorite herb with cream cheese, sandwiched in a chicken breast half, then breaded and baked for 30 minutes. Presto, quick and delicious dinner! I like oregano; sage or basil are other possibilities. Try 'em all!

Wow, was this good. I thought the prep and cook times were right on point, and the chicken came out super moist -- not dry at all. I followed the recipe, using fresh oregano as you suggested, with some minor changes: Do green onions count as an herb? I wasn't sure, so I didn't know if they were supposed to go in the chicken at step 3, but I threw them in there anyway. I also used toothpicks to hold the chicken breasts together once I folded them back up. They made it a lot easier to dip the chicken in all the different bowls without having it come apart/get really messy. I like a lot of garlic, so I used more than 1/4 teaspoon, probably about 1/2 or a little more. I also used Italian-flavor breadcrumbs, which I thought went really well with the oregano... all the flavors were just constantly present in all the different levels. This was very delicious, and when it's done, it looks and tastes like it was very difficult to prepare -- a good way to trick people! Thanks for a nice way to use up cream cheese!
Preheat oven to 350 degres F.
Flatten open chicken breasts; spread 1 tablespoon of cream cheese on one half of each breast (resist the temptation to use more-- a little cream cheese goes a looooooong way!).
Evenly distribute the fresh herbs on top of that and season with salt and pepper.
"Fold"the chicken breasts back up and press tightly, tucking in cream cheese a bit.
In a shallow dish, combine the 1/2 teaspoons salt and pepper, paprika and flour.
In another dish, pour the beaten egg mixture.
In a third dish, combine bread crumbs, garlic powder and Parmesan cheese.
First dip chicken breasts in flour mixture, then beaten egg mixture, then bread crumb mixture.
Place chicken on a lightly greased baking sheet, drizzle about a tablespoon of melted butter on each breast and bake, uncovered, for 30 minutes or until cooked through and tender.