reinalagman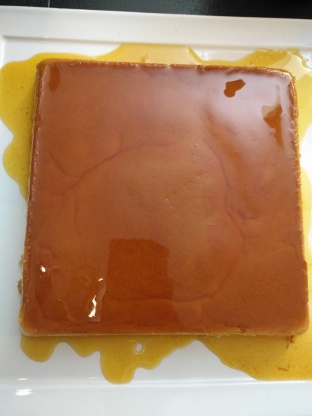 Rich and Creamy Flan with a beautiful amber sauce makes for a striking presentation. If you like cheese cake you will love this. You can add a bit of Amaretto Liquor if you like, or serve with a little Kahlua Liquor and a dollop of whipped cream. This requires a standing time of 3 hours and 20 minutes before serving.

I've been making this Flan recipe for a few years now, and it is always a hit w/ everyone that tries it. I have the prep time down to 10 minutes. Some changes I have made to the recipe that I have liked: Use (2) 8 oz packages of Cream Cheese, and (6) eggs, 11/4 teaspoons Vanilla. IMO this really firms up the texture of the flan, and the cream cheese flavor comes thru even more! I've been making it this way for awhile. Good Eating! PS - For carmelizing the sugar, which some have mentioned that they have issues. I start at about 70% heat, as soon as the sugar begins to form clumps, I then turn to 30%, and constantly stir after that. This carmelizes the sugar much faster. Just watch it closely so you don't scorch.
Preheat oven to 350°F and heat sugar in a small, heavy-duty saucepan over medium-low heat.
Stirring constantly, for 3 to 4 minutes or until sugar is dissolved and caramel colored.
QUICKLY pour into bottom of a 2-quart casserole dish.
Place evaporated milk, sweetened condensed milk, cream cheese, eggs and vanilla in a blender; cover.
Blend until smooth.
Pour mixture into the prepared casserole dish (over the dissolved sugar).
Place casserole in a 13x9-inch baking dish; fill baking dish with warm water to 1-inch depth.
Bake 1 hour and 20 to 30 minutes or until knife inserted comes out clean.
Remove flan from hot water.
Cool at room temperature in casserole on wire rack.
Refrigerate for several hours or overnight.
Run knife around rim; gently shake to loosen.
Invert into serving dish.
Enjoy.