Derf2440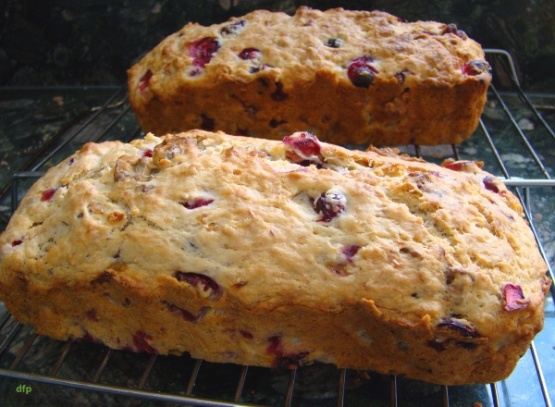 Use up the leftover cranberries, freeze the loaf for later. I often make half of this into a loaf and half into small muffins.

This is SO easy to make and tastes great. I took it to work and it was devoured in no time at all. I might add a few more nuts next time because I really like the different textures. I used frozen cranberries - whole. They just kind of POP in your mouth that way. All in all, a great recipe. Can't wait to make it again.
Preheat the oven to 350F degrees.
Grease an 8 1/2 by 4 1/2 inch loaf pan.
Mix sugar and butter in a medium mixing bowl until completely blended.
Add banana, milk and eggs, mixing well.
Add dry ingredients, mixing just until moist.
Stir in nuts and cranberries.
Spread batter evenly in the loaf pan.
Bake for 1 hour and 10 minutes, or until a toothpick inserted in the centre of the bread comes out clean.
Remove from pan, cool on rack.