teresas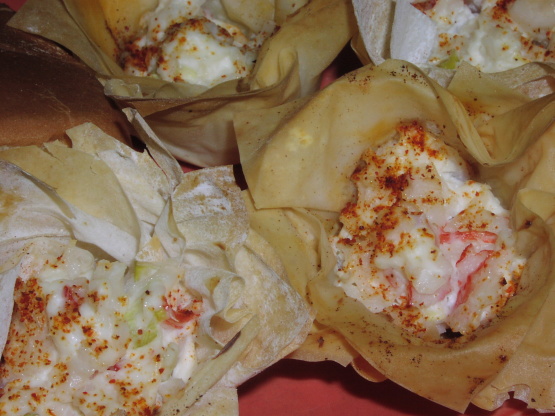 Yummy little appetizer that's quick and easy to prepare!
Yum yum for the tum tum. These were an elegant yet simple appetizer that tickled my husband's taste buds! I used the tartlet shells and employed a freer hand with the horseradish sauce. You need the sauce, it gives it such a rick flavor. I added a dash of lemon juice and salt and pepper. The paprika on top was delish!
Preheat oven to 350*.
Mix the cream cheese and horseradish sauce together.
Fold in the crabmeat and onion.
Using a small sized scoop (Pampered Chef), place filling into tart shells.
Sprinkle with a small amount of paprika.
Bake for 16-18 minutes, or until slightly brown on top.