Country Garden Slaw With Classic Vinaigrette
mianbao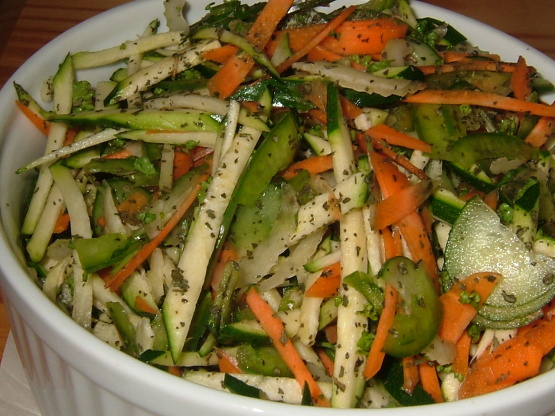 This is a wonderful slaw. It uses fresh veggies fresh right out of the garden. No mayo in this--just a simple made vinaigrette that I have included.

This is so refreshing! It may seem odd to try to recreate a summer salad in the middle of winter, but I thought it might be worth it. It was. I didn't have trouble getting any of the veggies, but could not find fresh basil for love nor money. So, I did have to use dried basil, which, I know is not the same. The salad is still very good! I'm looking forward to making it again in season. Thank you very much for sharing this recipe with us.
Cut carrots and zucchini into match stick sized strips and mix with next 4 ingredients.
Add salt to taste. Add parsley and basil. Toss with dressing and serve.
For dressing, whisk together vinegar, salt, and pepper. Slowly add the oil in a thin stream while whisking. Whisk until all oil is used.