Barb G.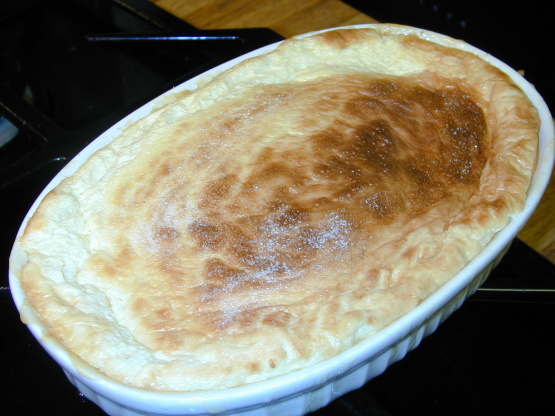 This breakfast custard is delicious with berries, sour cream or yogurt, brown sugar and/or cinnamon sugar. Recipe source: Bon Appetit (June 1985)
This was great for breakfast, served it with Strawberries. I cut the recipe in half for the 2 of us, made it using splenda instead of sugar, but sprinkled a small amount of sugar on the top. This would be delicious for a brunch. Thank you Ellie, I will be making this again & again.
Preheat oven to 425 degrees F.
Butter (with the 1 tablespoon butter) and dust with 1 tablespoon sugar a 2-quart casserole dish.
In a blender combine the next 7 ingredients (half and half - salt) and blend until smooth. Add cottage cheese to mixture and blend on low speed for five seconds. Pour mixture into prepared dish.
Bake for 30 minutes. Reduce oven temperature to 350-degrees F and bake 10 more minutes. Sprinkle with the last 1 tablespoon sugar and bake another 5 minutes or until knife inserted in center comes clean.
Remove from oven and cool for 10 minutes before serving.