LISA C.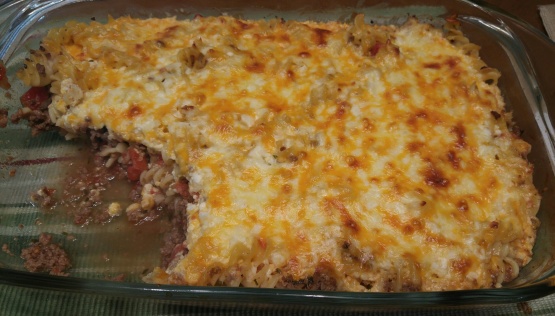 The source is The New Zealand Beef & Lamb Marketing Bureau web site. I've modified the recipe slightly. Since it was first reviewed I noticed that salt, pepper and pepper flakes were missing in the ingredient list, so they have been added. This recipe is better the next day - if you can, make it ahead through step 5, refrigerate and bake before you're ready to serve.

Top Review by Satyne
Made for ZWT 2012. Absolutely delicious. My partner who isn't a huge eater went back for seconds. One housemate had already had dinner, but had two servings and my other one asked me to rate it A would eat the **** out of it again. I also enjoyed it greatly and a six serving meal was devoured by 4 thoroughly impressed people.

Very easy to follow recipe, easy to make and goes down like a treat. Thanks so much for sharing.
Cook the onion in oil, in a frying pan, on low heat for 5 minutes. Add the garlic and cook for 1 minute. Set aside.
Add the ground beef to the pan, and cook, breaking it up often until the meat is no longer pink. Add the cooked onions back to the pan with the celery, bay leaf and dried herbs, tomatoes, salt, pepper, and pepper flakes, and beef stock. Cover and simmer gently for about 30 minutes, stirring occasionally until thickened.
Meanwhile, Cook the pasta in plenty of boiling water until al dente. Drain and add salt to taste.
When the meat is cooked, remove the bay leaf and stir in the parsley. Mix the pasta with the meat then turn into a baking dish.
Beat the eggs with the cottage cheese (or yogurt or crème fraiche) and grated cheese. Pour over the meat/pasta mixture.
Bake at 375F for about 30 minutes until the top has browned and the sauce is bubbly.