Corned Beef With Homemade Glaze
WiGal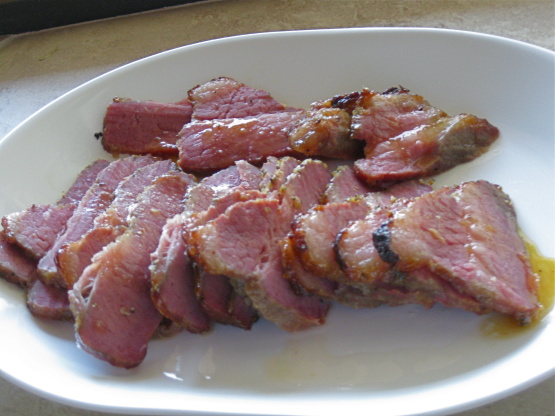 A fine recipe, with a delightful glaze, that will give great scent in your home. The glaze is home made.

I love what cooking it in the crockpot and then finishing in the oven did for the flavor of the corned beef! I also liked that it put a crust on the corned beef, we all agreed that was unique and good. However, we also tended to ignore the excess sauce on the bottom of the pan. It was a tad sweet for our taste (even though the crust wasn't - you figure, I can't). Based on Tinkerbell's advice, I did not use the seasoning pkt that comes with the brisket and it was seasoned fine. Thanks for Sharing! Made for PRMR Holiday 3.
Place sliced onion in large slow cooker, adding 1 cup of water.
Sprinkle lemon pepper liberally over corned beef and place on top of onion.
Cover and cook on low for 7-9 hours.
Remove corned beef from slow cooker and place in ovenproof pan.
Preheat oven to 375 degrees.
Prepare glaze by combining all ingredients and spoon over corned beef.
Bake for 30 minutes and baste occasionally with glaze.