Rita~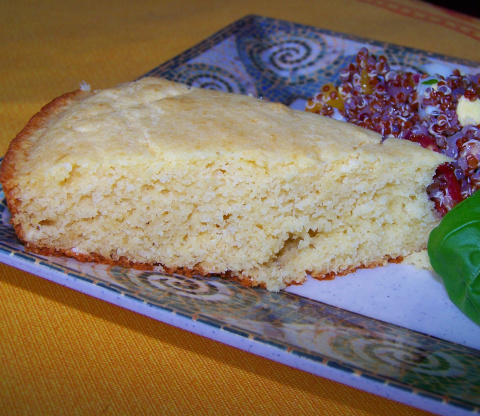 From www.foodandhealth.com Per Cookgirl's recommendation, I'd like to say that although the recipe states "mix well" in step 4, be very careful about not overmixing the batter. A lighter hand works wonders here.

I also used 1 tablespoon agave in place of sugar and cut down the oil to 2 tablespoons like Smellyvegetarian did. I used unsweetened almond milk instead of skim milk. One batch made 12 muffins and they were absolutely delicious! This recipe is a real keeper. Thank you Stingo so much for posting such a delicious and healthy recipe!
Preheat oven to 375 degrees Fahrenheit.
Lightly oil an 8"x8" baking dish.
Combine dry ingredients in a medium bowl.
Add wet ingredients and mix well.
Pour batter into pan, baking for about 30 minutes until done. Let cool, and cut into 12 squares. Serve warm. Cover and refrigerate unused portions.