all4him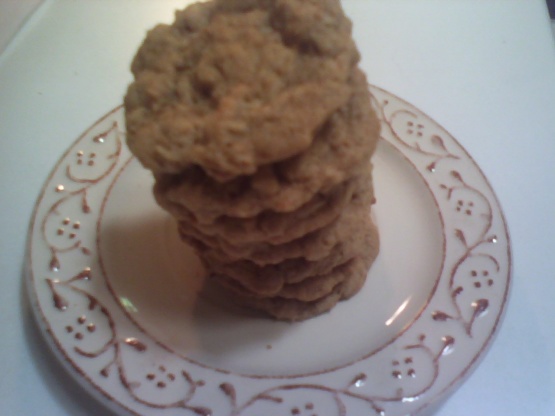 These cookies are both chewy and crunchy at the same time. Very good for people who can't make up their minds.

I messed with the recipe a bit, substituting 'Sunsweet Lighter Bake' (fruit puree) for the butter, and chocolate chips for the raisins. Cookies without butter are hardly deserving of the name, but still, my family wolfed them down. Pretty satisfying after school snacks both from mom's perspective (it's gotta be nutritious) and from everyone else's (make it tasty and filling). The cookies I made were probably three star cookies, but if I'd used the butter the recipe calls for, I'm sure they'd be a solid 4- or 5-star taste treat.
Preheat the oven to 350 degrees F.
Either lightly grease your cookie sheets or line them with parchment paper.
Combine the flour, baking soda and salt together in one bowl, stir to mix well.
Beat together the butter, peanut butter, sugar, brown sugar and vanilla in another (large) bowl until light and fluffy.
Beat in the eggs and milk until smooth.
Stir in flour mixture until well blended.
Gently mix in granola and raisins.
Drop the batter by rounded teaspoonfuls 2 inches apart on the prepared cookie sheets.
Bake in the preheated for 12-15 minutes or until lightly browned.
Remove to wire racks to cool.