Comforting Cream Cheese Potato Soup With Bacon or Ham
Parsley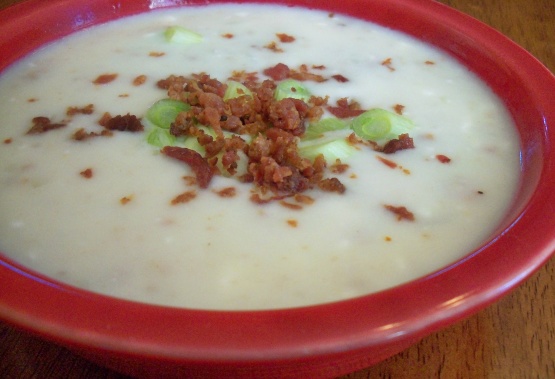 What a wonderful creamy and comforting potato soup! Garnish with additional snipped parsley and crumbled bacon or diced ham, as desired. Add a side salad and crusty baguette for a tasty lunch or light dinner. Perfect for a chilly autumn or winter's day...

I think this may be the best potato soup I've ever made! I also used bacon and only 8 oz cream cheese and it was a perfect consistency. I also used green onion instead of white as that was all I had on hand but I think I would do it the same way next time. Thanks for a wonderful and easy recipe!
In a stockpot or Dutch oven, bring the broth to a boil over high heat.
Add diced potatoes and onions and return to a boil.
Reduce heat to a simmer, partially cover and cook 20-25 minutes, until potatoes are tender.
Using a potato masher, coarsely mash the potatoes in the pot (do not drain).
Add seasonings, parsley, crumbled cooked bacon or diced ham, and the chunks of cream cheese.
Cook and stir for a few minutes, until cheese is melted. Stir well to combine.
Serve soup hot with a side salad and a crusty baguette.