COOKGIRl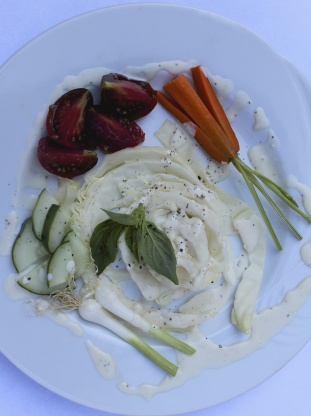 With some of this prepared and waiting in your fridge, and a package of the shredded cabbage coleslaw mix you can buy, you can have a salad on the table in minutes! Recipe easily doubles, or you can also easily just make half. I originally got this recipe from a friend, but I cut back the sugar and changed the type of vinegar used.

Excellent dressing! I made it with celery salt instead of the celery seeds and salt, and used red wine vinegar because that was all I had. This will be replacing my regular coleslaw recipe, as it is much easier, uses less ingredients, and tastes better! Thanks for the great recipe!
Note that you can adjust the sugar and vinegar amounts to suit your taste, adding more or less of each as you prefer; also note that if you insist on using Miracle Whip, you'll likely want to cut the sugar back.
In a blender, food processor, or even in a bowl with a whisk, combine all ingredients well; taste, add more salt if you wish.
Either use right away to dress a coleslaw, or store, covered, in the refrigerator; keeps well for several days.