Cod With Fennel, Mushrooms, Tomato & Dill
Derf2440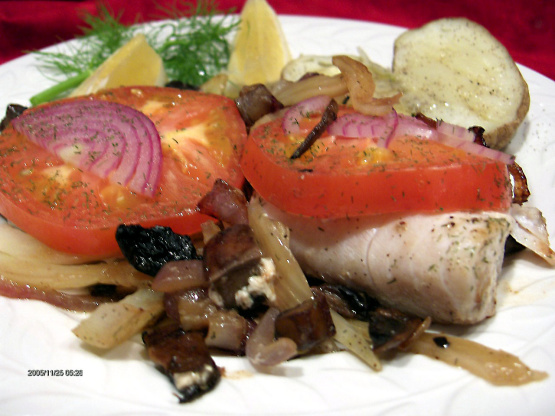 ...and sprinkled with lemon, yummy!

This recipe was easy and attractive, and the vegetable part of it tasted very good. However, I think cod is the wrong fish for the recipe. The veggies and seasonings are so sweet that I personally would prefer a fish with sweeter flesh than cod -- the cod tasted almost sour compared to the sweet veggies. I'd like to make it again, maybe with grouper or some other sweet fish. Alternatively, the veggies alone would make a very nice side dish!
Season cod with salt and pepper and squeese 2 lemon wedges over; set aside.
Spray nonstick frypan with veggie spray, heat over high heat, add mushrooms, fennel and onion, reserving 4 onion slices. Cook stirring until onions are soft, about 5 minutes. Reduce heat to medium. Place the 4 pieces of cod on top of the veggies; place one slice of tomato on top each piece of cod and one slice of reserved onion slices on top of tomato. Sprinkle with Dill and squeese 2 more wedges of lemon over all; cover and simmer until cod is cooked through and flakes easily with a fork, about 15 minutes.
Garnish with remaining lemon wedges and sprigs of fennel leaves.