PanNan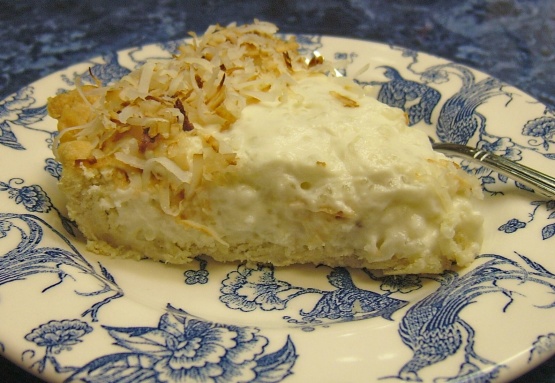 This recipe was posted in the Houston Chronicle. It's so quick and easy to make, you can even do it on a busy week night. The cook time indicated is really the chill time.
In a medium-size saucepan, whisk together coconut milk, sugar, tapioca and eggs.
Mix thoroughly and let rest 5 minutes.
Meanwhile, toast coconut in a dry skillet over high heat, stirring constantly until golden brown.
Pour onto a plate to cool.
Cook tapioca mixture over medium-high heat, stirring constantly, until it comes to a full boil.
Remove from heat and mix in vanilla and coconut extracts.
Set saucepan in a bowl of ice water and stir filling until cold, about 4 minutes.
Whip cream in a medium bowl until stiff.
Carefully fold filling into whipped cream until mixed.
Spoon into pie shell and sprinkle edges with toasted coconut.
Cover and refrigerate 30 minutes, then serve.