Luschka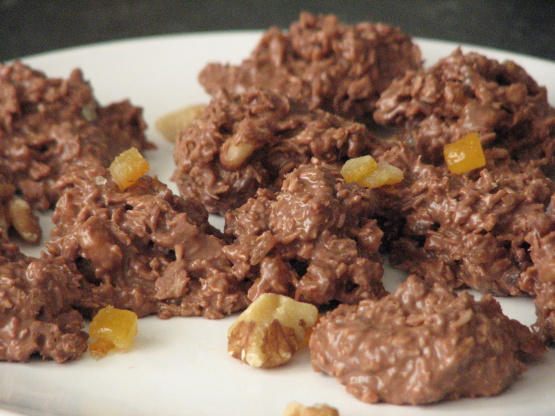 From Country Fair food and crafts. This is another of my Christmas gift basket recipes. There are so many things you can do with this. I use the chocolate and coconut as a base for finishing off whatever bits are left in the kitchen. In the picture are coconut roughs with just coconut, some with added walnuts, some with added candied orange. The chocolate covers everything, so you can't really see the difference, but you can taste it! I haven't done it yet, but assume green and red cherries would be delicious too. Have fun with them, they're so simple.

These are great - I love coconut (toasted is my favourite). The only negative is coconut in your teeth, but worth it! Thanks for posting.
185

g desiccated coconut, toasted

410

g milk chocolate, melted
chopped nuts (optional) or chopped glace fruit (optional)
Place coconut and chocolate in a bowl and mix well to combine.
Line a baking tray with non-stick baking paper and drop rounded teaspoons of coconut mixture onto tray.
Refrigerate until set.