Coconut Oatmeal Cookies from Francis
Deantini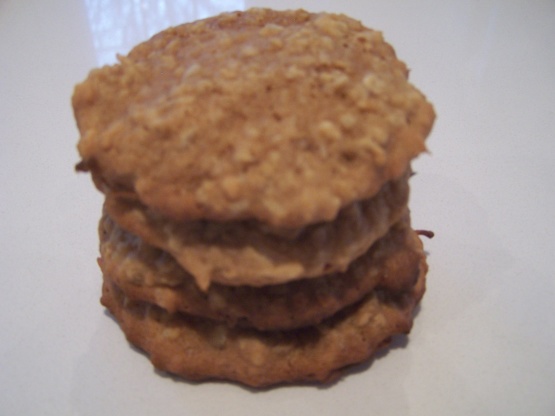 This cookie blends together some great flavors and oh so good.

This is a good cookie; I made a few changes to fit my tastebuds (less fat, less sweetness); I reduced shortening by 1/2 cup and instead added 1/2 cup unsweetened apple sauce. I omitted 1 cup of regular sugar and added 1/2 cup of splenda. I only used 1/2 tsp salt because I reduced the sweetness. I got 40 cookies that baked up really well. Because of the changes to the recipe the cookies came out at 90 calories. Made for Sweet Traditions Tag
Cream together the shortening and sugars.
Beat into that batter the eggs and oatmeal.
Add to that mixture the flour, soda, baking powder, salt, vanilla and the coconut. Mix well.
Drop by spoonfuls onto a cookie sheet.
Bake at 375° for 8 minutes (Do not over bake).