Classic Tenderloin With Balsamic Portabella Sauce
Cook4_6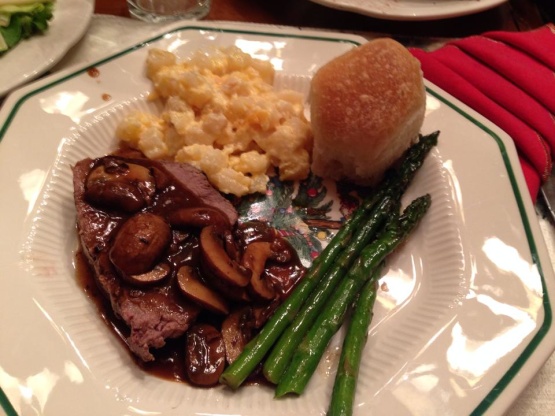 Serve this dish with mushroom sauce or opt for the plain version if you wish.

I made this for dinner last Friday night and everyone in my family (and I cook for six :) absolutely loved it. Don't change a thing, it comes out perfect! 2015 - I made this for Christmas Dinner and it was excellent! I added a splash of red wine, an extra splash of beef broth and a splash cream to the sauce because it evaporated a bit too much while finishing up the sides. Excellent!
FOR THE BEEF TENDERLOIN: Place beef on rack in roasting pan. Brush with oil; sprinkle with pepper and thyme. Roast in 450°F oven for 40 to 50 minutes or until meat thermometer registers 140°F for rare, or until desired doneness.
Transfer to cutting board; tent with foil and let stand for 10 minutes before slicing thinly. Serve with Balsamic Portobello Sauce if you wish. Serves 16.
FOR THE PORTOBELLO SAUCE: Heat roasting pan over medium high heat for 1 minute. Pour in beef stock, stirring to scrape up any brown bits. Add mushrooms; cook, stirring frequently, for about 8 minutes or until very soft. Stir in vinegar.
Mix flour with butter until combined; whisk into pan and bring to boil, whisking constantly. Cook, whisking, for 1 minute or until glossy and thickened. Season with salt and pepper. Makes about 1 1/2 cups.
Canadian Living Winning Tastes of Beef.