Clams With Angel Hair Pasta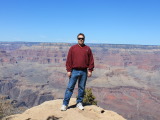 This dish started out as an easy quick meal for myself. But it is really good. Don't be shy with the pepper and you'll love the results.
Directions
Coarsely chop onion Coarsely dice tomato.
Crush garlic.
Heat olive oil in large frying pan on medium high heat.
Add garlic to pan and brown for about 30 seconds.
Add onion and fry about 2 minutes.
Add tomato and fry about 2 minutes.
Add clams with juice.
Add salt and pepper to taste.
Let mixture bubble until reduced by half (about 3-4 minutes).
Serve over angel hair pasta.
Reviews
Most Helpful
Okay, So i have to admit.... I was a little hesitant to make this... I mean how good can these ingredients really be thrown in together??? well, It's freaken awesome!!! nice light meal! Loved it, Will certainly make again!
YUM!! Made this for the family tonight, and it was a hit with everyone! My husbands eyes widened with the first bite, and my 3 yr old nearly licked his bowl clean. I can't wait to make this again! Modifications (which I hate to do trying a recipe for the first time...) I used shallots instead of vidalia onion (because I didn't know what that was), and I added a red pepper. Next time I'll add asparagus too!
Living in Savannah, we usually have clams readily available, but last night the only thing they had at the local grocer was mussels. This sauce was just as fabulous with mussels instead of clams. Way to go!