Great New England Clam Chowder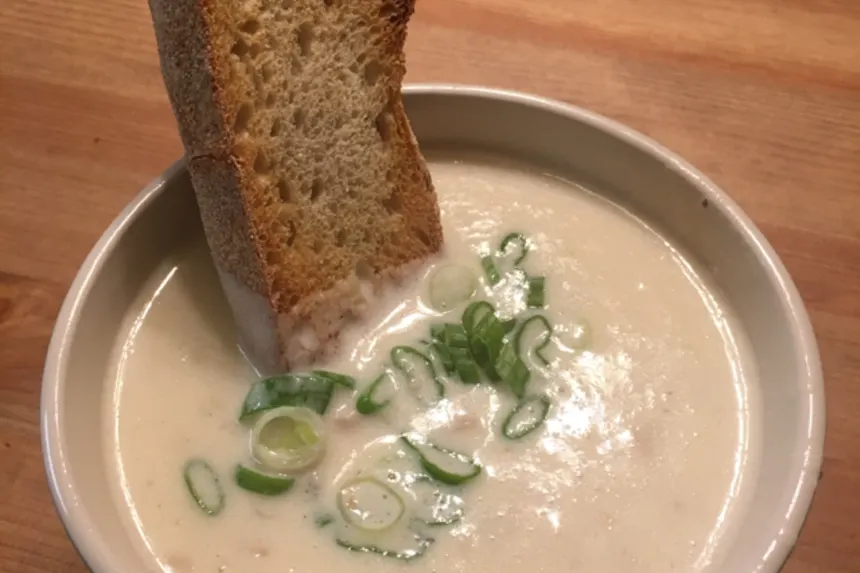 photo by Men Cooking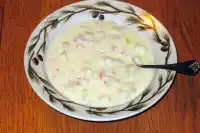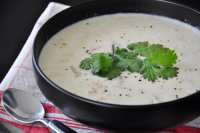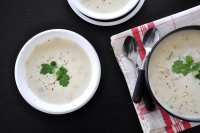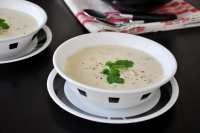 Ready In:

1hr

Ingredients:

12
directions
Place potatoes in saucepan and cover with water, cook on medium heat until tender.
Remove potatoes from heat, drain and set aside.
In 2 quart saucepan on medium low heat melt butter, add diced onions, cook until onions are slightly clear in color.
Add flour to butter and stir briskly.
Mixture will start to thicken.
Add half and half a little at a time while stirring briskly.
Mixture will be creamy and will look like thick cream.
Place salt, clams and juice, potatoes, bottled clam juice and milk with mixture.
On medium low temperature bring chowder to a slow boil.
Turn temperature down to low and let chowder simmer gently for 15 minutes, stirring frequently.
Reviews
Being a Cape Codder, I'm picky about my clam chowder....I've made a few recipes from this site with limited success. This recipe is the closest I've come to getting it right. The thickness is perfect and the flavor is rich, but it's missing something.....I think other posters are correct in saying it needs a bacon element added. I think next time I will try to sneak in a bit of bacon fat or salt pork to see if that helps....I think that would be better than just adding bacon to the mixture. I'll keep working at it but thanks so much for a great recipe!! We really enjoyed it.

 

After reading the other reviews I decided to make this with a little twist. I started by frying half a package of bacon in the stew pot. I removed the bacon then used the grease (which was about 1/4 of a cup and added only 1/4 of a cup butter to make the half cup of butter it called for in the recipe) I cooked the remainder just as called for in the recipe except I didn't have the extra clam juice, I only had the juice from the cans of clams. Oh and I added a can of corn and the cooked bacon in the last 5 minutes of cook time, and waited until the last 5 minutes to add the clams so they wouldn't over cook. (I also waited to add the potatoes because I cooked them completely before adding and I didn't want them to turn to mush in the soup) I seasoned the soup as called for in the recipe and added a dash of cayenne pepper to it. It was so great that my husband who isn't a soup eater had 2 bowls of it.

 

Added pork belly that I crisped up at the beginning of the process, while I was cleaning the clams. I chopped up the pork belly and added it to the roux before adding the clams in. I added a little minced garlic. I sometimes add in crab and shrimp to create a seafood chowder. My family and friends go nuts for it. Add a good crusty bread or put in a bread bowl. YUMOH!

 
Tweaks
I used 1lb of whole clams. The seafood counter at Stop and Shop sells a see-through container of them in this quantity for $6.99 and 1lb was perfect. Much better than canned in my opinion - which I have tried in a different clam chowder recipe in the past. Also used 6 pieces of bacon and kept all of the grease plus 1 stick of butter (vs 2 in the recipe). In the future I will only used 3-4 slices of bacon.

 

The amount of butter is way off. 1 cup = 2 sticks! For a roux, 1/4 c flour only requires 4 Tbl (1/2 stick) of butter. I did add 2 strips of bacon, diced, to the butter. I sautéed the bacon in the butter until just before it was crisped and then added the onion. I also added more clams, an extra can or two. The flavor was wonderful.