Cinnamon Sugar Pinwheel Cookies
Karen..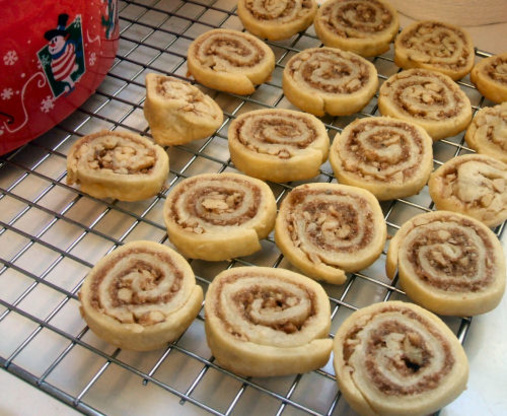 DH loves these cookies. Makes a nice addition to a Christmas cookie tray! Prep time includes chilling.

These are very good! I skipped the nuts because my husband isn't a very big fan of pecans and that's all I had on hand. The directions were easy to follow, although I made a couple of changes based on previous reviewers' suggestions. I chilled the dough overnight and then rolled to approximately 1/4" thickness. I decreased the bake temperature to 325. The cook time was around 15-16 minutes for my oven. My husband and I both thought that the cookies were very tasty - even without the powdered sugar sprinkled on top (so I actually left them plain). An easy cookie that has an impressive presentation. Thank you for the recipe!
Allow cream cheese and 1/2 cup butter to soften, then blend together.
Stir in egg yolk and flour, mix well.
Cover bowl and chill 30 minutes.
Heat oven to 350 degrees.
Divide dough in half and roll very thin.
Brush with 2 Tbsp melted butter.
Combine cinnamon, sugar and nuts, sprinkle half this mixture over dough.
Roll up like a jelly roll.
Cut roll in 1/2 inch slices and place cut side down on ungreased baking sheet.
Repeat other half.
Bake 15 minutes or till golden brown.
Cool on wire rack, then sprinkle with powdered sugar.